Do you see that crown? I wore it to school today. Do you know what it's made out of? Hershey's bar wrappers, some rainbow stuff I found at the beach, some old Candie, a sand shovel handle I found at the beach and a plastic jewel.
I also wore a red t-shirt with seven pins on it and here are a few of them.
It was very fun to wear that outfit to school because so many people complimented me and stuff. Speaking of outfits for school, one day at school I was imagining myself in colorful couture plastic hat's in my school setting. Then I thought that would be a great photo shoot for Vogue or any other magazine so I drew some pictures and here they are with pictures of the hat's. VERY important! If you or someone you know works on fashion magazines like Vogue or Harper's bazaar or something like that please send them the link to my blog so they can arrange to come to my school with couture hats and take pictures of me for their magazine.
Philip Tracy hat.
Now that my picture is compared to the real one I noticed that mine is a little too small and wouldn't it be fun to go to school wearing this and have some photographer taking pictures of you?
If I'd known there was a smaller pink version of Isabella's hat with a face in it I would have defiantly drawn a picture with that too.
Christian Dior 2010 fall couture.
Wouldn't I look so cool in this!?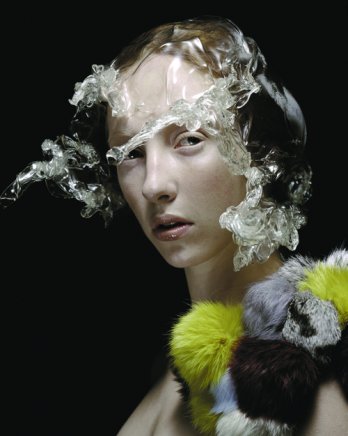 Stephan Jones hat. I love this hat because it looks like someone through a water balloon at the back of their head and it popped and the water is falling all over their head.
That shirt is one I made all by my self.
Wouldn't
it look good with that hat?
Well good bye for now.